What it can do for your business
IBM? Access and Value Connect enables market access and managed care teams to understand and communicate the value of your product using real-world evidence. You can model real world clinical and financial impact of a product on health plan costs. The solution offers interactive disease models powered by IBM MarketScan? Research Databases.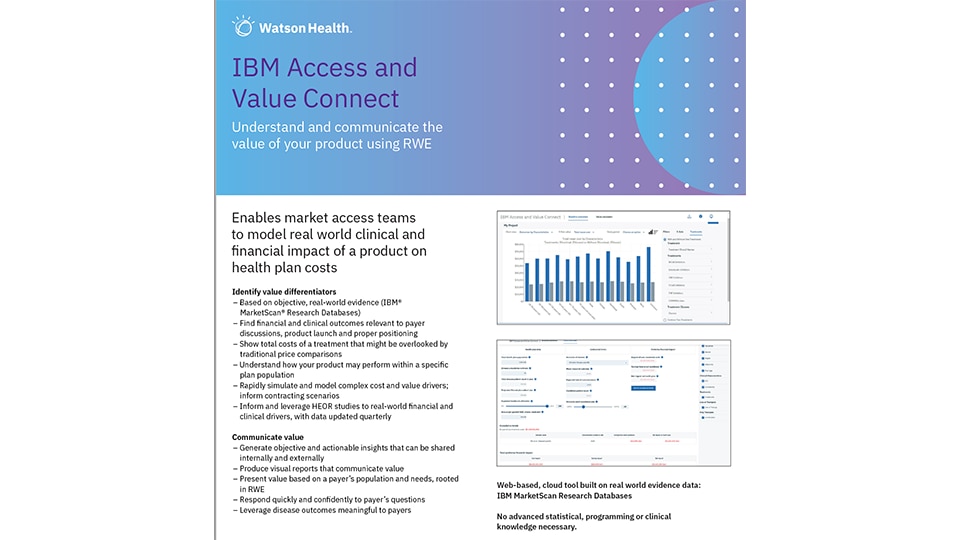 Demonstrate & communicate product value
Present value based on payer's population and needs, rooted in RWE; Respond quickly to a payer's questions
Identify product value drivers
Compare clinical and financial outcomes using charts and filtering. Access disease and product-level competitive and market intelligence.
Inform pricing & access decisions
Save time and resources by running exploratory financial and clinical outcomes relevant to payer discussions, product launch and positioning; no advanced statistical or clinical knowledge necessary.
Influence contracting strategies
Use value calculators to estimate the potential impact of adding therapies to formularies. Determine if value-based contracting is feasible.
Key features
Rapidly simulate and model complex cost and value drivers
Develop payer/plan-specific analyses
Quantify value of outcomes avoidance and occurrence
Manage and share multiple projects and assessments
Security and privacy in the cloud
IBM enables companies to scale and adapt quickly to changing business needs without compromising security, privacy or risk levels when using IBM cloud offerings.

Learn more about IBM Cloud security
Product images