Assess Skills for Microsoft Office, Leadership and More
Immediate access to 1,350+ proven/validated assessments
Easily assign/interchange pre-hire assessments for applicants
Identify the strongest candidates and engage them immediately
30+ million assessments administered annually in 50+ languages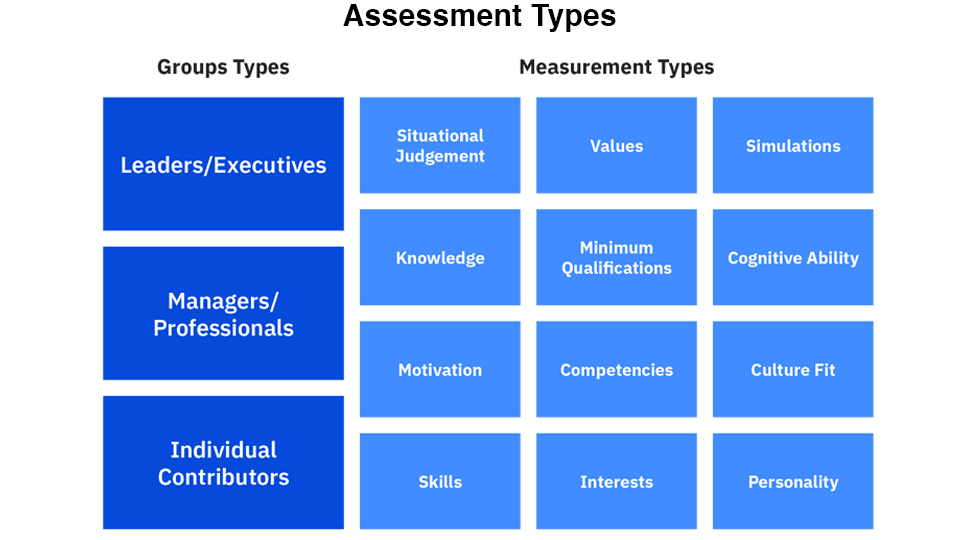 Microsoft Skills & Simulations
Excel tests, Word tests, Outlook tests and more; tutorials for up-skilling and training. Offers a wide range of computer skills & simulations.
Industry & Job Specific Skills
Retail skills, hospitality skills, industrial skills, customer service skills, sales skills, financial skills, technical & computer skills; administrative skills, keyboard tests and more.
Leadership, Behavior & Personality Match
Leadership skills, executive skills, management skills, motivation skills, teamwork skills, reasoning skills; job/culture match and key performance indicators.
Sample Reports
Microsoft Excel 2016
Retail Manager Selector
Leadership Behavioral Profile
And more...
Security and privacy in the cloud
When using IBM Cloud offerings, your company can scale and adapt quickly to changing business needs without compromising security, privacy or risk levels. Learn more about IBM Cloud security
This offering meets the following industry and global compliance standards, depending on the edition you choose.
To learn about the compliance and certifications for a specific offering edition, consult the Cloud Services data security and privacy data sheets.
Which option is right for you?
Free Trial

---

Register for the free trial to learn about the Assess experience! Test content and reports are not intended for candidate evaluation.

Off the Shelf (OTS) - Per Score Plan

---

The 'OTS' plan enables you to quickly identify the best candidates for your organization. This plan is best suited for small to medium sized businesses.

Cyber Security - Per Score Plan

---

The Cyber Security Plan will provide you with the tools you need to assess the behavioral attributes and cognitive aptitude required for success in cyber roles.

Enterprise Plans

---

Enterprise plans provide access to additional content and features! This option is best suited for businesses anticipating high assessment usage.
Expert resources to help you succeed