Transform surveillance
IBM Financial Crimes Insight for Conduct Surveillance proactively monitors employee activity by ingesting and analyzing the immense volume of data derived from diverse set of new channels and source, including emails, social media, chat transcripts, voice transcripts and customer complaints. It goes beyond traditional rules-based alert detection, leveraging pre-built models that can be used in a variety of areas, such as conduct risk, client suitability and complaints. Leveraging advanced cognitive analytics, this solution assists institutions in meeting regulatory obligations around fair sales practices.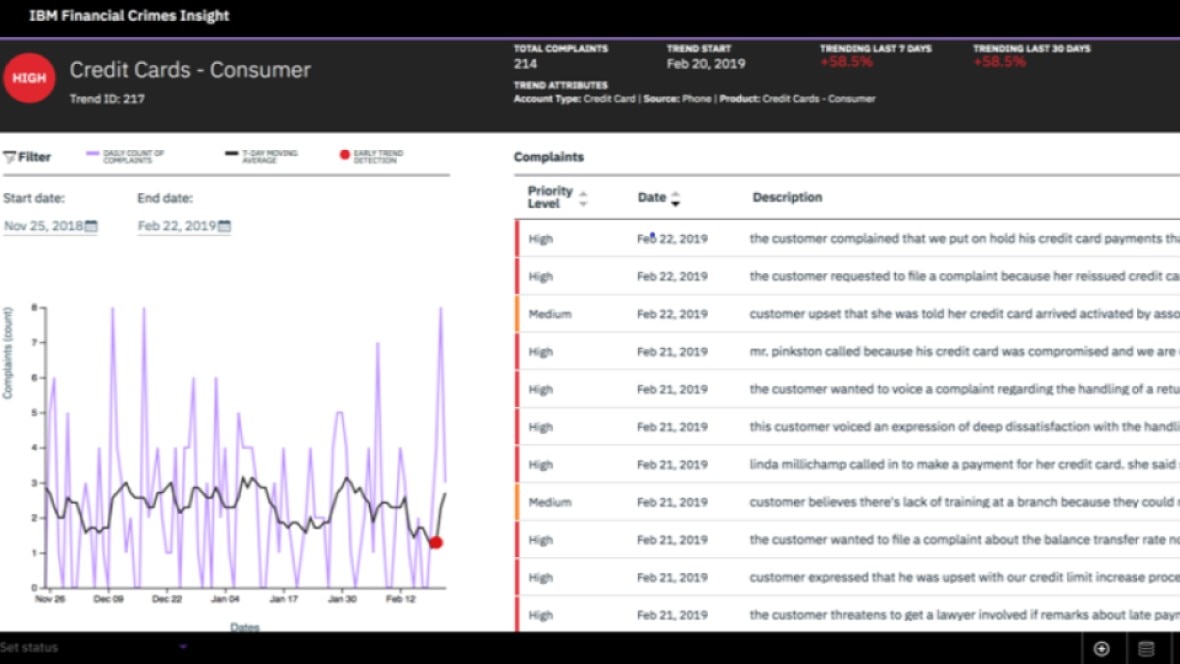 Deeper insight into potential conduct
Detect sophisticated misconduct by analyzing wide array of data sources, including email, chat, social media and voice transcripts
Fast and effective investigations
Instantly drill-down into the evidence and reasoning behind an alert to make a quick and accurate decision.
Reduced cost of employee non-compliance
Know your employees better and proactively monitor them for non-compliance by aggregating and analyzing behavioral data.
Minimize noise
Reduce false positives and prioritize alerts using sophisticated, pre-built models to better understand sentiment and higher risk employees.
Security and privacy in the cloud
IBM enables companies to scale and adapt quickly to changing business needs without compromising security, privacy or risk levels when using IBM cloud offerings.

Learn more about IBM Cloud security
Which option is right for you?
Communication surveillance

---

Capture, aggregate, and triage communication data across email, chat and social media to establish an in-depth view of potential violations.

Compliants Analytics

---

Analyze and monitor employee-customer interactions to unearth systemic violations and emerging causes of complaints for root cause analysis.

Voice Surveillance

---

Unlock insight from voice transcripts from call centers and complaints departments to accelerate identification of suspicious intent.
Expert resources to help you succeed