What it can do for your business
Augment existing AML transaction monitoring and sanctions screening systems with AI, advanced analytics, automation and machine learning capabilities to help financial institutions improve alert triage and investigative efficiencies. Using data from historical cases, analysis of entity and network risks and experienced-based machine learning, Financial Crimes Insight reduces false positives and prioritizes higher risk alerts that may otherwise have been missed. Reduce high operational cost of false positives by improving prediction accuracy and providing insights to operators to make better, faster decisions.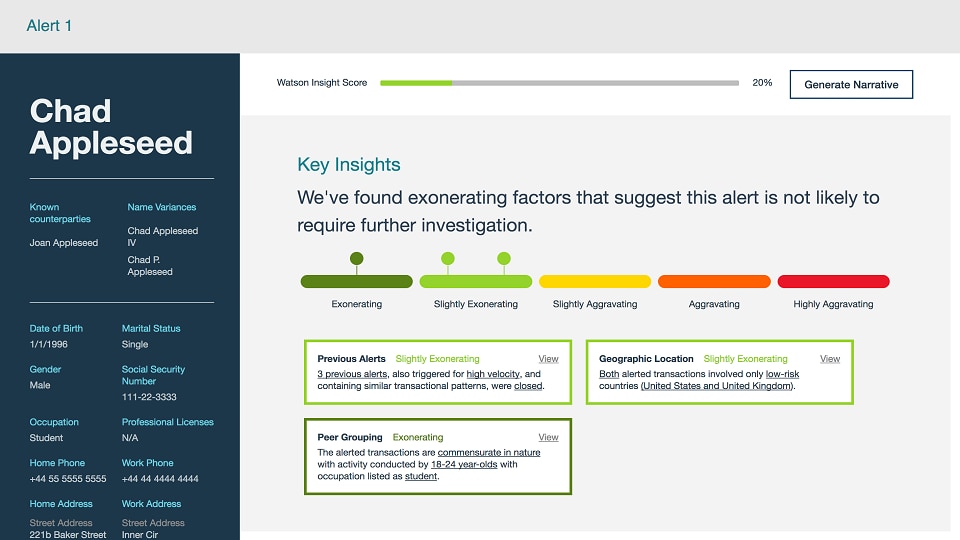 Speeds issue resolution
Automates extraction of case notes, memos and natural language data to improve productivity and reduce manual, time-consuming case work.
Leverages AI and machine learning
Uses Watson capabilities to uncover high risk attributes that may otherwise be missed as well as exonerating factors that provide transaction justification through contextual insights.
Reduces costs and compliance risks
Increases program and analyst effectiveness by creating greater standardization, consistency and efficiency resulting in lower costs and decreased compliance risks.
Why you need IBM Financial Crimes Insight for Alert Triage
Provide intelligent automation
Increase productivity with better prioritization
Derive powerful insights
Modernize AML with AI
A platform built for change
Your partner for success
Security and privacy in the cloud
IBM enables companies to scale and adapt quickly to changing business needs without compromising security, privacy or risk levels when using IBM cloud offerings.

Learn more about IBM Cloud security