What it can do for your business
Enable your organization to improve the customer experience throughout the customer lifecycle, from on-boarding through periodic review, by streamlining and automating Know Your Customer (KYC) and customer due diligence (CDD) compliance process. By augmenting existing systems instead of replacing them, financial institutions can take advantage of AI, automation and modern capabilities while realizing a faster time to value. Uncover hidden risks with the power of Watson AI. Reduce cost of friction in product innovation and client onboarding by providing FinCrime tools on Cloud Pak for Data that enable clients to adapt defenses.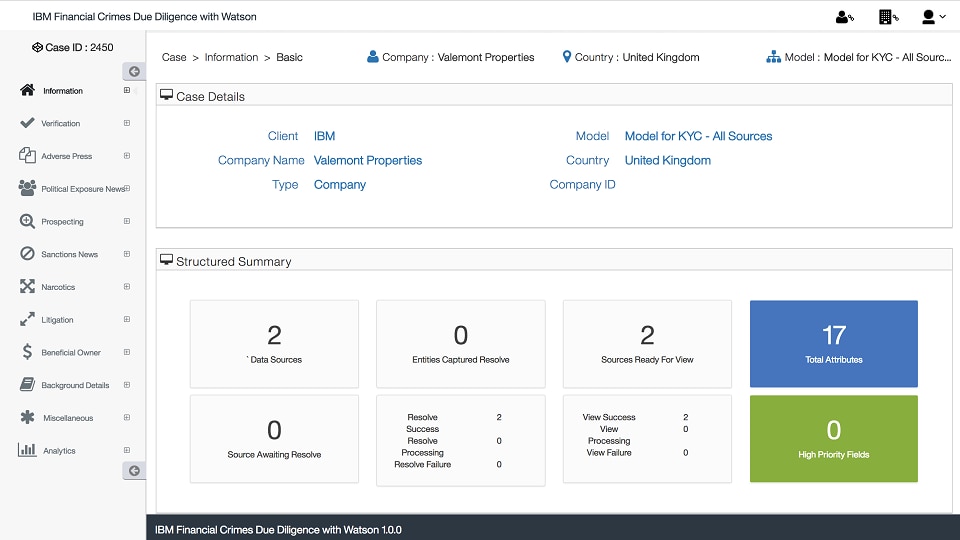 Streamline compliance and on-boarding
Enable a more efficient and accurate review process by aggregating and analyzing transactional, internal and external data to reduce manual case work.
Automate repetitive, time-consuming task
Enhances and accelerates the customer due diligence processes and ongoing screening requirements using Watson-powered intelligent automation to pre-populate key information and extract insights.
Manage risk across the entity lifecycle
Aggregate information from structured and unstructured sources to link entity relationships to uncover hidden relationships during on-boarding, periodic review and during material change events.
Why use IBM Financial Crimes Insight for Entity Research
Automate data entry and information gathering
Gain on-going insights from internal and external data
Speed investigation, review and reporting
Modernize your approach without an overhaul
A platform built for change
Your partner for success
Security and privacy in the cloud
IBM enables companies to scale and adapt quickly to changing business needs without compromising security, privacy or risk levels when using IBM cloud offerings.

Learn more about IBM Cloud security