Video platform and solutions for your business
Broadcast live and on-demand video content to massive external audiences, or secure enterprise video delivery to engage your workforce with our video platform solutions. Our unique offering allows centralized management and control for both external and internal video communications, and features Watson artificial intelligence capabilities to gain insights from unstructured video content.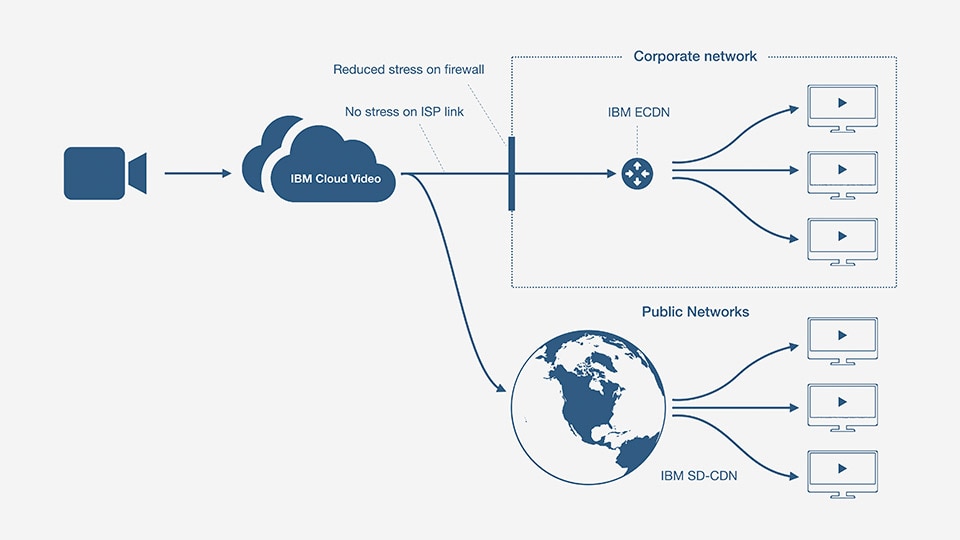 Deliver video to massive audiences
Through a software defined content delivery network, online video is delivered with improved geographic reach and reliability via a built-in backup process with intelligent traffic management.
Deliver anywhere, to any device
Video content is automatically transcoded in the cloud for delivery to virtually any device, with adaptive bitrate support to reach a range of connection speeds.
Engage and measure in real time
Track engagement in real-time, including geographic location and device used. Download full reports that offer individualized tracking for those who registered.
Secure delivery to internal audiences
Intelligently restrict and secure access to corporate video assets. Easily integrate with corporate directory systems and enable access with single-sign on, or add individual emails to access.
Security and privacy in the cloud
IBM enables companies to scale and adapt quickly to changing business needs without compromising security, privacy or risk levels when using IBM cloud offerings.

Learn more about IBM Cloud security