Create a more engaging and relevant shopping experience
IBM? XPS uses IBM Watson capabilities to provide a cognitive-driven, dialogue-based product recommendation engine. The software can mimic the conversation of an in-store expert to help your customers find what they need.
IBM XPS can learn your entire product catalog – including the latest products, inventory and logistics information – as well as process external content, like weather data. It can then recommend the most suitable product for each customer. And since it has the capacity to learn and evolve, it becomes more adept at surfacing the most relevant product offerings as it absorbs lessons from real interactions with customers.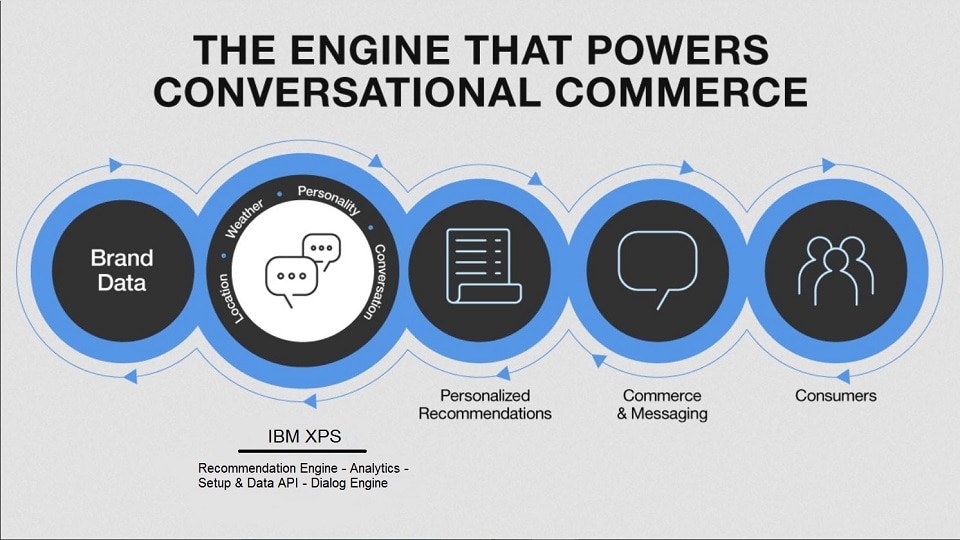 Improves the customer experience
Learns and adapts to deliver optimal results through customer-driven insight.
Makes smarter recommendations
Enables contextual product recommendations based on digital conversations with customers about what they want.
Increases conversion rates
Guides the customer through his shopping journey to help boost conversion rates along the way and increase sales.
Provides valuable business insights
Helps make your entire business smarter by absorbing lessons from real interactions with customers.
Saves time and money
Faster to implement than custom-built solutions, this SaaS product lets you get started quicker at less cost.
Key features of IBM XPS
Natural language processing
Conversational commerce
Tailored product recommendations
Guided shopping experience
Cognitive learning for future use
Security and privacy in the cloud
IBM enables companies to scale and adapt quickly to changing business needs without compromising security, privacy or risk levels when using IBM cloud offerings.

Learn more about IBM Cloud security