What it can do for your business
IBM Engineering Test Management is a collaborative, web-based, quality management solution that offers comprehensive test planning and test asset management from requirements to defects. Built on the Jazz? platform, it enables teams to seamlessly share information. It uses automation to speed project schedules and report on metrics for informed release decisions. It can also be purchased as part of the IBM Engineering Lifecycle Management solution—a set of seamlessly integrated tools: IBM Engineering Workflow Management, IBM Engineering Test Management, and IBM Engineering Requirements Management DOORS? Next.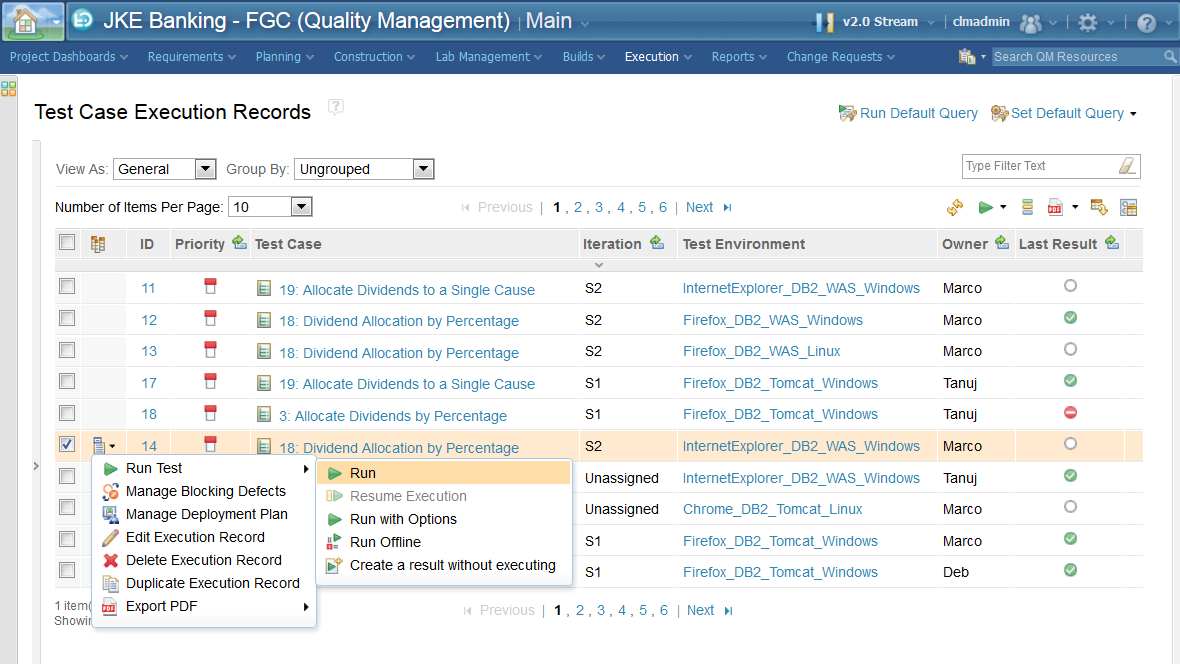 Use comprehensive test plans
Use test plans that are customizable live artifacts which capture a variety of testing activity dimensions.
Meet regulatory requirements
Provides help to meet regulatory requirements and get ready for compliance audits.
Get reporting with a purpose
Always have an accurate real-time status without having to ping each and every team member.
Run test scripts quickly
Accelerate manual testing using rich text, in-line images and assisted data entry and validation for precise test definition and execution.
Accelerate time to value
Use the cloud to get up and running faster and focus on technological innovation.
Better manage your machines
Whether it is a test lab or virtual machines, track all your lab resources in one place. Make sure that the required resources to execute your test plan are available.
Key features
Requirement tools integration
Automation tools integration
Comprehensive test plans
Communications support
Advanced reporting capabilities
Risk-based testing
Security and privacy in the cloud
When using IBM Cloud offerings, your company can scale and adapt quickly to changing business needs without compromising security, privacy or risk levels. Learn more about IBM Cloud security
This offering meets the following industry and global compliance standards, depending on the edition you choose.
EU-US Privacy Shield and Swiss-US Privacy Shield Framework
To learn about the compliance and certifications for a specific offering edition, consult the Cloud Services data security and privacy data sheets.
Which option is right for you?
Professional Software as a Service

---

IBM Engineering Test Management - Professional Edition in a single tenant cloud HTTPS secure site. Subscription and Support included.

Enterprise Software as a Service

---

IBM Engineering Test Management - Enterprise Edition in a single tenant Virtual Private Cloud with IPSec VPN Tunnel. Subscription and Support included.

Perpetual License

---

IBM Engineering Test Management on-premises installation of a single authorized user and install license. Includes 1 year of Subscription & Support.