What it can do for your business
IBM UrbanCode Velocity provides actionable insights based on key performance indicators to help application delivery teams move faster and release better software. With historical and real-time views of deployments, errors, and delays, you can see how value flows through your delivery pipelines and where bottlenecks disrupt flow.
When teams need to coordinate at a higher level than promoting a single service, UrbanCode Velocity helps them make a "pipeline of pipelines" to easily coordinate multiple continuous delivery pipelines together.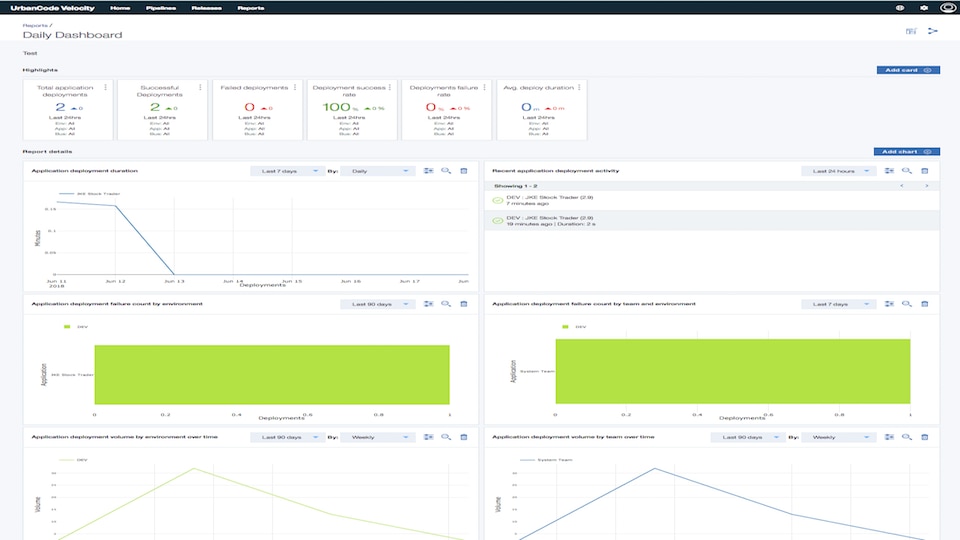 Tame fragmented pipelines
Bring together service pipelines into coherent release pipelines - even across different Continuous Integration / Continuous Delivery tools. See where everything is and coordinate delivery.
Optimize the value stream
Equip DevOps transformation teams with cycle time data to show where you are slow and what to do about it.
Manage enterprise releases
Schedule and coordinate large enterprise release trains with visibility into work items and deployment activities.
Prepare for audits
Audit reports make it easier than ever to show that automation is complemented with appropriate controls and visibility into who has done what.
Key features
Pipeline management for development leads and teams
Release process templates for release managers
Real-time delivery reports for DevOps transformation leaders
Helm chart installation
Product images