Optimize your talent management strategy
IBM? Watson? Career Coach is a virtual assistant that aligns your business goals with your employees' career goals. Through data, interactions and updates, Watson Career Coach learns about an employee's preferences and interests, and makes recommendations for existing job opportunities and how to navigate future career moves. IBM also offers IBM Watson Career Coach Express to organizations wanting to make an immediate impact on internal mobility. Through the same AI-powered chatbot, the express version makes next internal job recommendations based on questions and answers with employees and by scanning an uploaded resume for information.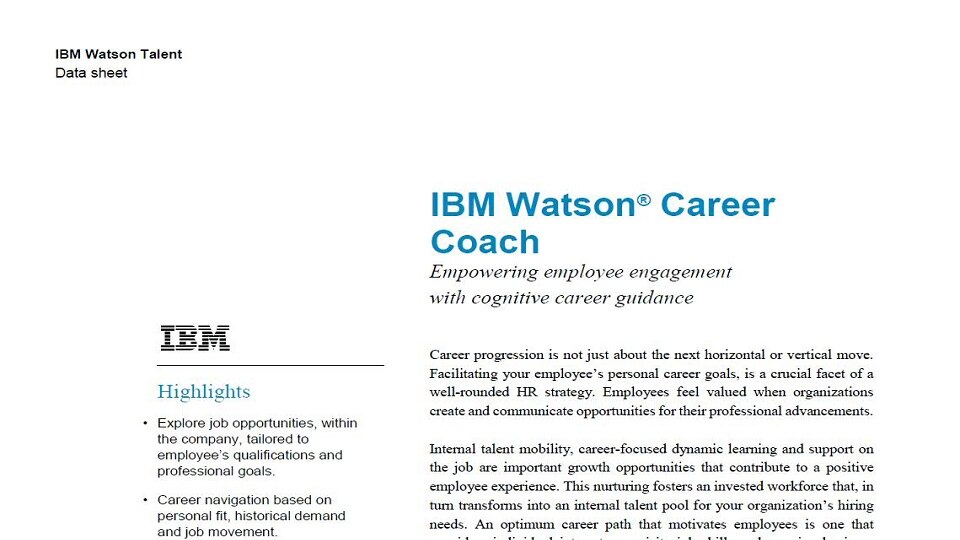 Reduce hiring costs
Retain top performers by providing a clear vision for future growth and advancement in the organization.
Improve employee engagement
Provide employees with job enrichment, learning and the resources to pursue career goals.
Build the skills of existing talent
Empower employees to discover where they are and what direction they can go to help grow with your business.
Reduce attrition
Retain top performers and reduce attrition with career development and internal mobility options tailored to the individual.
Start now—without technical skills
Ask questions and seek information using everyday, conversational language with a natural-language interface. No technical skills required.
IBM Watson Career Coach features
A personalized advisor
An opportunity finder
A personalized career path navigator
An educational advisor
Security and privacy in the cloud
When using IBM Cloud offerings, your company can scale and adapt quickly to changing business needs without compromising security, privacy or risk levels. Learn more about IBM Cloud security
This offering meets the following industry and global compliance standards, depending on the edition you choose.
ISO 27001
ISO 27017
ISO 27018
To learn about the compliance and certifications for a specific offering edition, consult the Cloud Services data security and privacy data sheets.
Which option is right for you?
Watson Career Coach Express

---

An AI-powered chatbot that answers employee career-related questions and finds their next job inside your organization. Minimal data required to train Watson.

Watson Career Coach

---

Full-featured internal mobility tool powered by Watson with job matching, career guidance and learning suggestion in a friendly chatbot interface.

IBM Talent Development Starter Pack

---

Pilot Watson Career Coach for 90 days with pre-loaded job and skills data from Watson Talent Frameworks competency library.
Expert resources to help you succeed